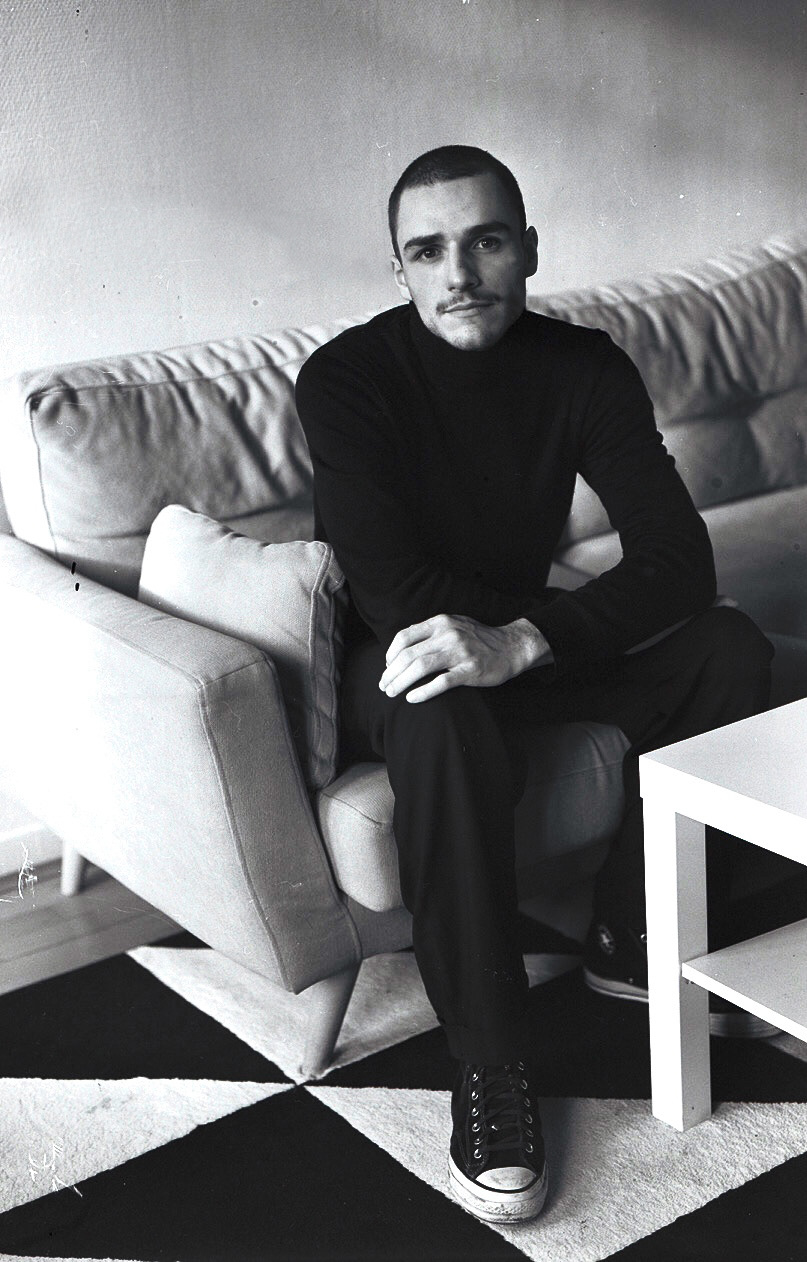 Né en 1997 à Sedan, Adrien Tinchi vit et travaille entre Bordeaux et Reims.
Diplômé de l'École Supérieure d'Art et de Design de Reims (Diplôme National Supérieur d'Expression Plastique obtenu avec les félicitations du Jury en 2020), il co-fonde la même année avec Ouassila Arras, Victoria David et Thomas Schmahl l'Artist-Run-Space The Left Place-The Right Space.

Entre l'année 2021 et 2022, Adrien Tinchi est invité à réaliser une résidence de médiation à Reims avec le soutien du FRAC Champagne-Ardennes et l'Académie de Reims.
Il entame à la même période une résidence de recherche avec les astrophysicien.ne.s du PCCP (Paris Center for Cosmological Physics).
Par une tentative de prise de conscience discrète, le travail d'Adrien Tinchi tend à la production protéiforme d'évènements singuliers.  
Faisant un lien fort entre durée et destination/destinataire, sa pratique nourrit une volonté de créer des parenthèses spatiales et temporelles. Celles-ci prennent la forme d'installations, de vidéos, d'envois postaux en passant par l'événement musical ou la création de restaurants clandestins…
Utilisant la médiation comme medium, il développe une série de happenings contextualisant ses recherches et mettant en lumière certains projets jusqu'à présent restés dissimulés.
À côté de cette pratique s'est développé un duo de performance avec Thomas Schmahl. Ils créent ensemble la marque de supporting générale ALLEEEEEEEEEEEEEEEEEEEZ.
Born in 1997 in Sedan, Adrien Tinchi lives and works between Bordeaux and Reims.He graduated from the École Supérieure d'Art et de Design de Reims (National Superior Diploma of Plastic Expression obtained with the congratulations of the Jury in 2020) and co-founded the same year with Ouassila Arras, Victoria David and Thomas Schmahl the Artist-Run-Space The Left Place-The Right Space.
From September 2021, Adrien Tinchi is invited to carry out a mediation residency in Reims with the support of the FRAC Champagne-Ardennes and the Académie de Reims.At the same time, he iss preparing a research residency with the astrophysicists from the PCCP (Paris Center for Cosmological Physics).
Through an attempt at discreet awareness, Adrien Tinchi's work tends to present singular events from which he tries to draw out a sensitive essence. With a particular interest in mediation related to artistic work, he is developing a series of story-telling contextualizing his research and highlighting some of his projects that have hitherto remained hidden. With a particular interest in duration, his practice tends towards the protean production of parentheses, both temporal and spatial.
Alongside this practice has developed a performance duo with Thomas Schmahl. Together they create the general supporting brand ALLEEEEEEEEEEEEEEEEEEEZ.
Conférence sur Raoul Figu
, TheRightSpace
, Reims (France)
16/05/2023
:

La Lecture-Artiste:

Matières à lire

,

Rennes 2

, Rennes (France) 
05/05/2023:

Exposer l'Espace - Rendre visible l'Univers

, Turbulence, Marseille (France)
exposition personnelle / solo sh

ow
:
2023:

Significant others

, TheRightSpace, Reims (France)
2019

:

L'instant d'un quelque part

, TOCTOC, Reims (France)
projets curatoriaux / curatorial projects
:
2018:

Les Divers

, Le Bain, Reims (France)
2022:

Et plus si affinités,
partenariat avec le FRAC Champagne Ardennes et le Lycée Colbert, Reims (France)
expositions collectives / group show:
2016:

Très forte augmentation

par le Bureau du Dessin, Galerie Modulab , Metz (France)
2018: Nourrir,

ce nourrir

, Galerie SometimeStudio, Paris (France)
2018:

Attraction(s)

, Biennale de la photographie de Mulhouse, Mulhouse (France)
2018:

Les Divers

, Le Bain, Reims (France)
2019:

2 temps 3 mouvements

, DOC!, Paris (France)
2020: 
Les Inédits

,
Le Cellier, Reims (France)
2018: Nourrir,

ce nourrir

, Lizières, Épaux-Bézu (France)  (avec Thomas Schmahl)
2018: 

Nourrir, ce nourrir

, Galerie SometimeStudio, Paris (France)  
 

(avec Thomas Schmahl)
2018:

Les Divers

, Le Bain, Reims (France)  

 

(avec Thomas Schmahl)
2018:

Les écritures bougées

, DOC!, Paris (France)  

 

(avec Thomas Schmahl)
2019:

MEUSEUM

, Musée de la Métallurgie Ardennaise, Bogny-sur-Meuse (France)  

 

(avec Thomas Schmahl)
2019:
La Coupe de Rien
,
Biennale Mulhouse019, Mulhouse (France)  

 

(avec Thomas Schmahl)
2019:

La Coupe de Rien

, Biennale Frichorama, La Filleuse, Reims (France)  

 (avec Thomas Schmahl)
2019:

Les écritures bougées

, Centre d'Art Contemporain La Traverse, Alfortville (France)
2022: 
Approches

,
TheRightSpace, Reims (France)
résidences / residencies: 
2017:

Résidence de production à CAMAC

, Marnay-sur-Seine (France)
2018:

Résidence de production à Lizières

, Épaux-Bézu (France)
2020:

Résidence de production à Lizières

, Épaux-Bézu (France)
2021
/2022:

Résidence de recherche au Paris Center for Cosmological Physics

, Paris (France)
2022:

Résidence de recherche et production à Fructôse

, Dunkerque (France)
workshops:

2

022

:

Intervenant lors de la Semaine Folle de l'ESAD de Reims

, Reims (France) (avec Thomas Schmahl)
2

021-2022

:

Projet Artistique Globalisé au Collège Maryse Bastié
                   avec le soutien du FRAC Champagne-Ardennes
, Reims (France)
2

021-2022

:

Projet Artistique Globalisé au Lycée Colbert (Lycée et École préparatoire)
avec le soutien du FRAC Champagne-Ardennes
, Reims (France)
2023:

une paille avec une doublure

, édité par TheLeftPlace-TheRightSpace, 124 pages, broché, 300ex
2023:

La rayure et la pensée sans son

, journée d'étude

Matières à lire

, Université Rennes 2
2019:

Un monde sans montre

, intervention pour TEDx Reims
2018:

Attraction(s) – Biennale de la photographie de Mulhouse, texte par Étienne Hatt (artpress.com)
2019: Revue Fantôme

"

Comment commencer ?

", édition format papier
2020: PRÉSENT.E #4, podcast/interview par Camille Bardin (soundcloud, youtube, apple podcast)
2020: POST it #1: Thomas Schmahl & Adrien Tinchi (entretien réalisé par Chloé Godefroy), édition format papier
2022: Comment devient-on créateur.rice ?,
édité par Les Presses du réel en coproduction avec l'ÉSAD de Reims
BAT 1, 7 rue Léon Jouhaux